Our Team
Every member of our team is a passionate professional. We pride ourselves in offering the best possible care for your animals, while also ensuring you and your pet have a low stress and educational experience.
Dr. Trisha Rodé, DVM
Dr. Trisha Rodé knew she wanted to be a veterinarian from a very young age. Working in a small animal clinic during high school, she was a cleaner, weekend animal care attendant, and receptionist. With encouragement from her employer she became a Registered Veterinary Technician. Learning and loving the job solidified the commitment to apply to vet school and follow her dream. In 2005, she graduated from the Atlantic Veterinary College, UPEI. While working in various practices across southwestern Ontario, Dr. Rodé developed a vast knowledge and special interest in pain management, surgery, dentistry, and emergency medicine.
Her dream has now gone full circle with the opening of Haldimand Animal Hospital, in Cayuga, Ontario. As a veterinarian, nothing could be more fulfilling than snuggling your beloved companions while helping you ensure their best possible health.
When Dr. Rodé is not in the hospital, she's enjoying her time with her spouse and fur-family; Benjamin, a very high energy Bichon and Poodle mix, and Vince, a lovey barn cat rescue. You may also find her having fun at Ben's agility and fly-ball classes, drag racing, or volunteering with community events.
Amanda, Practice Manager
Amanda is a graduate of Sheridan College, where she received her certificate with honors in Animal Care. Her journey started with externships in equine and barn management, and companion animal care.
Enjoying a love for horses was challenged by a strong passion for companion animal care…especially, the unique needs of the cat. The cat won. Amanda started working in a small animal practice as a receptionist, and quickly advanced to veterinary assistant, and developed her skills and knowledge to eventually become a practice manager.
Haldimand Animal Hospital is excited for Amanda take us to the next level of care, service, and business development. She'll be active in many roles and you may communicate with her if you contact us, meet her at the reception desk, or in an exam room. She is looking forward to cultivating new relationships with clients and their furry family members.
Amanda lives in Stoney Creek with her husband, daughter and 2 cats; Evie and Angus. She enjoys spending time with her family, volunteering at daughter's school, baking, gardening and reading.
Alicia, RVT
Alicia, a Registered Veterinary Technician, started with Haldimand Animal Hospital in October, 2015, to cover a maternity leave. But since, has happily agreed to join our team part-time! She graduated from Ridgetown College, achieving the Veterinary Office Administration certificate, and the Veterinary Technician diploma from Georgian College. She enjoys developing client relationships and educating pet parents on providing their companions with the best care possible.
Alicia also completed an externship program for RVTs at the Vancouver Aquarium, in Vancouver, BC. During this externship, she helped assist alongside Dr. Martin Haulena and associates in the first-ever bowel surgery on a white-sided dolphin, as well as the daily care of some sea lions, otters, and an orphaned false killer whale. Her interest and experience in aquatic and wildlife species is helpful when the need arises to assist with some pocket pets, injured, or orphaned wildlife in the hospital.
Outside of work, Alicia is busy raising a young family with her husband. To relax, she loves going on nature walks, gardening, and spending time with family and friends. As for her own furry companions, Alicia has adopted two cats, Piper and S.J., and a rescue Husky dog, Marlee...and occasionally, she fosters an orphaned kitten, or two, or three, from a local rescue.
Sydney, RVT
Sydney grew up surrounded by animals; dogs, cats, rabbits, parrots and a pot-bellied pig to name a few! She knew from a very young age that she wanted to help animals in need.
During high school, she volunteered at The Owl Foundation in Vineland. She was able to learn valuable handling skills, assist with treatments, and rehabilitation of orphaned and injured owls and raptors. This sparked the passion to pursue a hands-on career nursing animals back to health. She graduated with Honors from the Veterinary Technician program at Sheridan College in 2013 and successfully obtained her Registered Veterinary Technician status.
Since becoming an RVT, she's excelled at patient care and fostering client relationships. Sydney understands the importance of providing families with the information to protect and improve the health of their furry family members. We're fortunate she's joined the team to serve the clients and patients of Haldimand Animal Hospital.
Sydney grew up in the little town of Attercliffe, but currently lives in Dunnville with her husband, two children, and dog, Gromit. She enjoys spending time with her family, going for hikes, and reading a good book.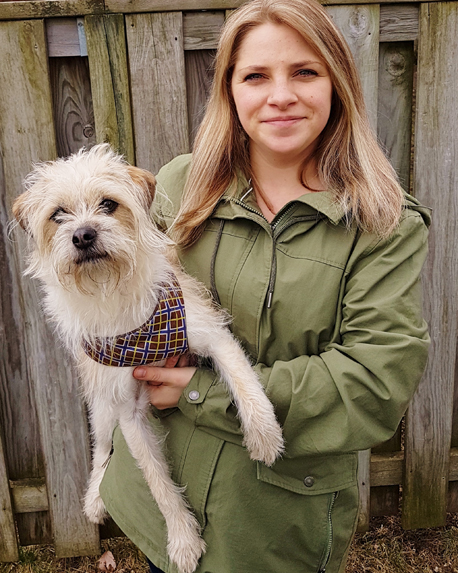 Theresa, RVT
Theresa is a veteran Registered Veterinary Technician. She graduated from Ridgetown College in 2004.
During her career, she's worked in clinics big and small. But, prefers the family-oriented feel of a close-knit community practice. Client education and communications with an emphasis on ensuring her patients continue to receive the best care, is her focus. She understands how difficult it may be to treat your own pet at home, and always has neat tips and tricks for even the sneakiest pet.
Being a self-proclaimed cat-lady, Theresa also has a passion for feline medicine and behaviour. So, if you don't know how to give your cat medication…ask her!!! She's here to help!
Theresa hails from Hamilton, but recently made the town of Dunnville her home. When she's done work she's at home with her daughter and her 3 furry family members; Wish, the Miniature Poodle, and two indoor cats; Carlita and Nacho. When she's not walking Wish along the Grand, you'll find Theresa at the beach enjoying some rest and relaxation time!
Kristen, RVT
In high school Kristen volunteered at a local vet clinic to get a taste of the veterinary industry, and absolutely loved it. Kristen attended Northern College in Haileybury Ontario, and graduated their Veterinary Technician program with honors in 2017.
Kristen's infatuation with animals started from a young age, thankfully her parents were very understanding of her love for animal companions, as they housed everything from bunnies to birds, hedgehogs, lizards and of course DOGS! Spending so much time caring for her own animals, and educating herself on different species needs and best interests, it only made sense for her to make a career out of caring for animals.
Kristen has a special interest nutrition, as she feels it is one of the most important components in the overall health of your pet! Helping pet owners make the most suitable nutritional choices for their pets no matter their size, shape or life stage is something that gets her excited. Kristen is always happy to share her knowledge and great resources to better help educate pet parents, and keep your pets feeling their best!
Kristen and her partner Duncan recently moved to Haldimand County, and she absolutely loves all the hiking trails, waterways and back roads it has to offer. In her spare time Kristen can be seen walking out and about with her rescue pup Leroy, working outside in the garden, or occasionally tearing down an off-road trail on her dirt bike.